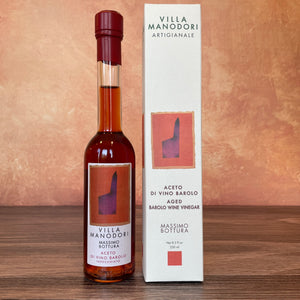 Villa Manodori Barolo Wine Vinegar (8.5 oz)
Villa Manodori Aceto di Vino Barolo is a super-premium red wine vinegar made with the highly coveted Barolo wine. It was created in partnership with Massimo Bottura, the founder and chef of the three Michelin star restaurant Osteria Francescana in Modena, Italy, a cultural center for Italian vinegars. This vinegar is bright in color, fragrant, and represents the essence and body of a D.O.C.G. Barolo.
It is a perfect ingredient to finish your salad or to provide a refined vibrancy to your vinaigrette, marinade, or dressing.