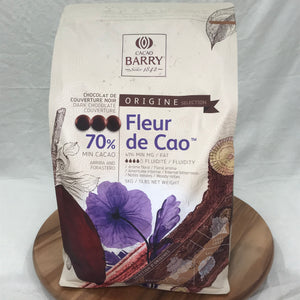 Cacao Barry Fleur de Cao 70% Dark Chocolate Couverture (11 lb)
Cacao Barry has been producing fine French chocolate since 1842.
These couverture chocolate pistols contain a minimum of 70% cacao.  Using a mix of Latin America and African beans, Arriba, and Forastero varieties, this chocolate has a strong cocoa flavor with subtle floral and fruity-sourish note.  It pairs well with passion fruit, black currant, raspberry, raisin, and candied orange.