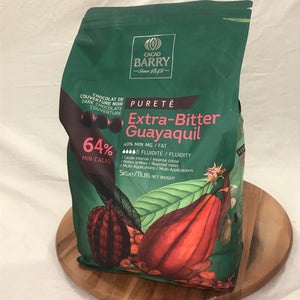 Cacao Barry Extra-Bitter Guayaquil 64% Dark Chocolate Couverture (11 lb)
Cacao Barry has been producing fine French chocolate since 1842.
These couverture chocolate pistols contain a minimum of 64% cacao and have an intense, balanced, roasted cocoa flavor with a hint of coffee and chestnut. The chocolate is also made with 100% pure cocoa butter, making this an ideal product for fine moldings, coatings, pastry ganache's, Mousse, ice cream, and sorbet.